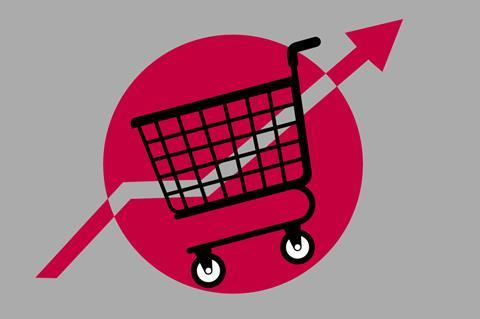 The Grocer's two-part webinar series looking at how brands and own label can thrive in the cost of living crisis is now available to watch on demand.
The first webinar – How can fmcg brands survive the cost of living crisis? – aired on Thursday 22 September, and features Alex Angel, head of UK sales at Dash Water; Alex Kapadia, MD of Freedom Convenience; Alex Macgregor, head of advanced analytics at NielsenIQ; and Ben Davies, founder of Vypr.
Panellists discussed how brands can rival own label as inflation hits home, through pricing, marketing and innovation. They looked at the extent to which brands should absorb extra costs, the impact of price promotions and the role of NPD and marketing.
NielsenIQ's Macgregor said brands should carefully consider the role of innovation in this climate. "Is it formulating products that are cheaper to put together? Making a similar product but making it cheaper? Is it about making something a bit smaller so you can keep the price point the same? Or is it bringing products that have real value to consumers that they're willing to pay a price premium for?"
Brands must think about their value at this time, stressed Macgregor. "Think about the long term: how do we invest value into our brand? How do we get consumers to buy into what we bring to them and what is it they're willing to pay for?
"If we can find the right pieces they're willing to invest in, then we can achieve some of that price inflation we need to achieve, but in a way that rewards the consumer," he added.
The topic of value was also explored in the second webinar – How will own label evolve in the cost of living crisis? – aired on Thursday 29 September.
The discussion featured IRI's UK senior strategic insight director Daniel Wright; Alex Kapadia, MD of Freedom Convenience; Paul Stainton, UK partner at private label consultancy IPLC; and Ben Davies, founder of Vypr.
The panel explored the key factors in attracting and retaining shoppers during the economic turmoil, and the role of value, standard and premium tiers.
Despite the inevitable trading down to cheaper lines, Wright said the premium tier could capitalise on the desire to recreate the out-of-home experience at a lower cost.
"As studies reveal more people are saying they will spend less on eating out of home, it's incumbent for retailers and brand manufacturers to remind consumers what their value proposition is, and make sure what they're innovating is relevant to that change in consumer need," Wright said.
Stainton also highlighted the need to invest in the premium tier. "Premium is vital for offering differentiation and innovation to consumers, most particularly at seasonal times," he said.
"We're already seeing fantastic premium Christmas products being showcased by all of the retailers this year, which shows NPD is continuing in the premium sector and retailers are wanting to invest in putting premium products out there.
"Premium will continue to be driven, I think, by retailers recreating that out-of-home experience for consumers and this is even moving into the standard tier," Stainton added.
Both webinars were chaired by The Grocer managing editor Emma Weinbren.
If you missed either broadcast or want to watch again for free, register and watch the webinar on how brands can survive or how own label can evolve, here.