With shoppers facing a multitude of challenges, understanding their changing motivations can help brands unlock growth throughout 2023 and beyond. In this article, consumer research agency, Focus Insights, uncover these motivations and the latest grocery trends you need to know.
Inflation remains in double digits and near the highest levels for 40 years. While it's expected to fall quickly through mid-2023, food and drink inflation (currently 16.7%) is expected to remain relatively high until early 2024.
This will continue to put huge pressure on household spending.
In its recent study, Focus Insights discovered that 95% of respondents claim to be concerned about the rising cost of living, with 96% of those having had to make changes to their grocery purchasing to adapt. But while it's important to understand what's happening now, it's even more important for businesses to have a view on the future.
Stephen Paton, research director at Focus Insights, explains: "From studying decision-making behaviour, we know that many of our everyday choices become set, or habitual. Once a behaviour becomes habitual, change is hard, so it becomes harder for brands to influence.
"Change occurs when a shopper's habitual behaviour is interrupted by either triggers or barriers. Prior to the pandemic, we saw changes come from internal triggers within shoppers, but the Covid-19 pandemic, war in Europe, and an uncertain political landscape have combined to place some incredibly strong barriers in shoppers' ways. This creates a shopping environment rich in the possibility of change."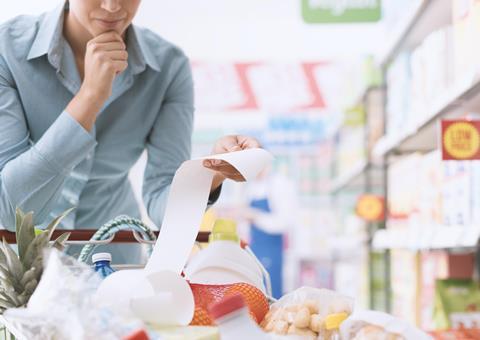 Shopper behaviours likely to stick for 2023
In their upcoming grocery report, Focus Insights hones in not only what decisions shoppers are having to make today, but more importantly which behaviours are likely to 'stick' with shoppers throughout 2023 and beyond.
There are three specific areas that branded business' can focus on:
1. Rise of the (even more) savvy shopper
The actions shoppers are taking to manage their grocery spend isn't news. Throughout 2022, shoppers switched to the discounters and into supermarkets' own brands in their droves, but this behaviour is now becoming habitual.
Shoppers are satisfied with their experiences and are claiming they're happy to continue. In fact, nine out of 10 shoppers who have switched to the discounters expect to continue to shop in the same way, while 78% of the shoppers who are buying more own label expect to continue with this behaviour.
'Now more than ever, brands need to justify their pricing position'
"These are huge numbers and demonstrate that many shoppers are not just going to switch back to their old habits," says Gary Seaman, regional director at Focus Insights. "This puts huge pressure on branded manufacturers and implicates longer-term volumes.
"But it's not all doom and gloom; there's still plenty of opportunity for brands to win with this new breed of savvy shoppers," Seaman continues. "Now more than ever, brands need to justify their pricing position and should be challenging themselves on how they compete in such a tough market.
"Depending on the equity and loyalty within the brand, this could stem from a multitude of things – from product differentiation to pack size or value for money. Most importantly, however, the start point needs to be based on truly understanding what shoppers think of your brand in the first place."
2. The motivation to be healthier
According to the report, 83% of consumers agree that life is about balance. And while the opportunity to treat still sparks reward, there's an over-arching motivation to be healthier; 30% of respondents say they're monitoring or aiming to improve their general health, while 22% are looking to make improvements to their diet.
While many consumers are taking action to reduce sugar, processed foods or unsaturated fat, there are many more who are still very interested in doing so but have potentially not taken the leap or just don't know where to start.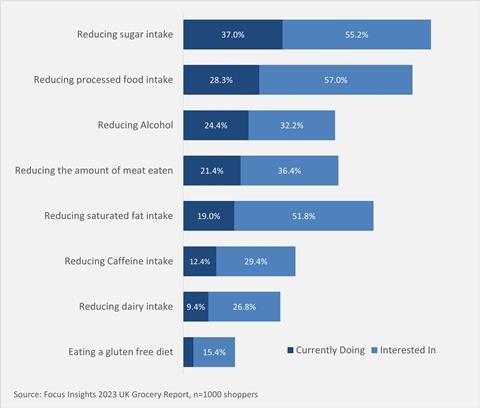 While reducing sugar, processed foods and saturated fat are the biggest opportunities for food manufacturers, many people are also interested in ways to reduce their meat and dairy intake or alcohol consumption.
If brands are able to understand the barriers as to 'why' consumers have not yet started their healthier lifestyles, this then creates a powerful platform for future growth potential.
3. Buying sustainably needs to be easier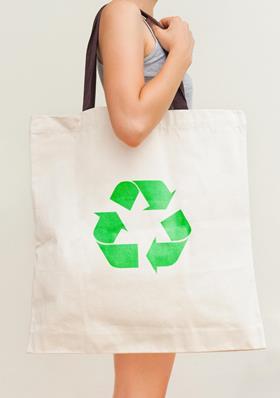 Shoppers want brands to help them reduce the amount of packaging waste they're throwing in the bin through reducing unnecessary packaging, eliminating plastic, and improving recyclability. However, shoppers do not expect to be paying huge premiums for brands to deliver this.
Price is the main barrier for buying more sustainably, but many shoppers do recognise that it costs a little more.
More than 10% of a price premium and brands will struggle to convert the majority of shoppers.
This means brands shouldn't expect to be able to charge huge premiums for doing the right thing, but there are significant volume opportunities from doing so.
To learn more about current and expected future shopper behaviour, sign-up to Focus Insights' free webinar on 16th March, 10am here

Focus Insights is a global consumer research agency specialising in providing powerful, fast, and affordable insights to enable you to identify and unlock the answers for your business. Speaking directly to your shoppers and consumers, we identify the barriers and opportunities required to accelerate future growth for your brands.
View full Profile