The online grocery shopping trend, accelerated during Covid, is here to stay. So how can retailers face the challenges in retaining consumer loyalty online, most pressingly, creating a frictionless online checkout?

The UK is expected to lead Europe in terms of online value grocery transactions this year, with an estimated total of €22.1bn1. In fact, compared with the rest of Europe, the appetite for home delivery is strongest in the UK2. A recent report by McKinsey & Company3 suggests that, in the most bullish scenario, "online grocery with scheduled home delivery could be the largest channel in the UK by 2030 – larger than supermarkets".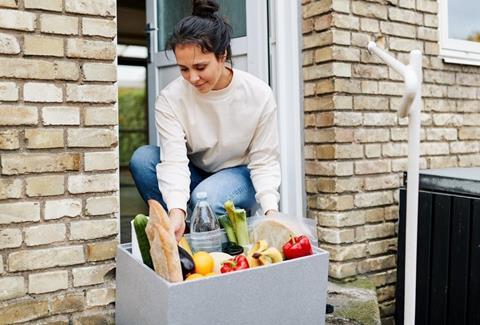 Are UK retailers prepared for this shift? Since the easing of lockdowns, online grocery shopping behaviours adopted during the Covid-19 years – although not developing as rapidly – have remained popular. Awareness of the timesaving, convenience and ease of online transactions are now firmly bedded in, with consumers continuing to invest in delivery and click & collect to the point where what was once an occasional online order is now part of the weekly routine.
A report published last year suggested that more than half (60%) of UK consumers now buy at least some of their groceries online, with almost 20% now ordering all or most of their groceries via the internet4.
The report also reveals that "80% of UK consumers say they would do more food shopping online if the experience were improved, and 28% plan to mostly shop online within the next two years", with home delivery cited as the preferred channel (23%) over pick-up in-store (6.6%)4.
Although online food and grocery sales have slowed since the lockdowns eased last year, total sales are still expected to keep on growing, with Statista estimating they will reach £29.3bn by 20255.
Long clunky checkouts can hamper sales
It's generally acknowledged that frictionless online shopping and payment experiences can help retailers attract more customers and improve their brand perception. Research has found that 39% of UK consumers are less likely to shop with a retailer that offers a long and confusing checkout6. Moreover, 43% of UK consumers have stated that businesses offering their preferred payment types would make them more likely to purchase online7. Mobile payments are now mainstream, with 66% of Britons preferring to shop and pay online via their mobile device7 – one of the highest percentages in Europe.
Iceland Foods group chief customer and digital officer David Delaney confirmed that, for any retailer, "payment is the ultimate challenge and the most fragile part of the retailer journey".
Over and above the time it takes for shoppers to conclude a transaction, many are still wary about the security of online payments and are reluctant to give their debit or credit card details, prompting them to use e-wallets to complete the transaction. While retailers have many elements to consider – including mobile optimisation, up-to-date inventory and an easy and efficient checkout process – if the customer doesn't feel safe making a transaction, the rest becomes immaterial. In fact, 47% of UK consumers are less likely to make a purchase if they have security or trust issues at the checkout8.
Frictionless online payments should be bread and butter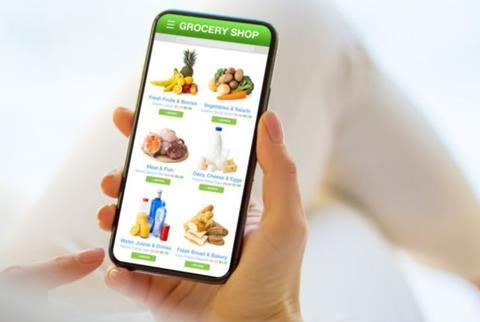 Hygiene and safety concerns were the primary influences driving shoppers and retailers to adopt online and contactless payments during Covid-19. As a result, in October 2021, the UK Government rolled out a rise in the spending limit on contactless transactions from £45 to £1009. With this new limit in place over the past 17 months, it seems that consumers are increasingly unlikely to return to cash or chip & PIN transactions.
In fact, in a study on the European grocery landscape last year, PayPal discovered that 59% of Europeans are paying for groceries and food delivery with online payment platforms, such as PayPal10.
Co-op and PayPal pave the way
Co-op is a major grocery retailer that offers PayPal as one of its payment methods to help shoppers make safe and secure grocery purchases through its online shop.
From February this year, PayPal is now a payment option for shoppers purchasing home delivery orders and click & collect on shop.coop.co.uk.
With Co-op now offering an online service through more than 2000 stores across the UK, the retailer's head of payments, Paul Fletcher, says: "As a convenience retailer, the ability to come into our stores will always be important to our Members and customers, but we also know that they want flexible options online – ease, speed and convenience is at the heart of our approach, whether in-store or online, and our work with PayPal will now offer additional online payment options which are simple, safe, secure and trusted by millions of UK shoppers11."
PayPal UK managing director Vincent Belloc adds: "E-commerce has always been about giving consumers a convenient way to buy what they want, when they want and being able to pay for it how they want. PayPal has 32 million active accounts in the UK, and is trusted by shoppers who buy, sell, and send money – without sharing their full financial information."
In its European study, PayPal points to the success of grocery webstores in Europe, revealing that they had the highest traffic growth and mobile penetration of all retail categories in 202012. And, by 2021, 82% of Europeans were ordering their groceries online, while 62% had ordered food delivery either online or with a mobile app2. "Offering a trusted payment provider like PayPal is critical to the growth and success of online grocers and food delivery websites, as it enables these businesses to appeal to new consumers," says the company. "Sixty-nine per cent of PayPal users feel more secure shopping at a business that accepts PayPal7. Adding PayPal to an online store is a simple way for a brand to attract new shoppers, allowing them to confidently pay with a provider they trust.
"PayPal … could be the trusted, frictionless solution your webstore needs to thrive in today's dynamic, digital grocery shopping and food delivery landscape."
To find out more about PayPal's payment solutions for grocery retailers, go to www.paypal.com/uk/grocery
Sources
1 Statista/Nils-Gerrit Wunsch, 'Forecast online grocery market size in selected European nations, 2018-2023, 6 December 2021
2 Survey commissioned by PayPal to understand online grocery & food delivery trends across the UK & EU. This online survey was conducted by Maru/Matchbox between September 6th and September 13th 2021, among 13,011 participants in Europe who were household decision makers who ordered their groceries online and/or ordered meal kits or food online from restaurants
3 https://www.mckinsey.com/industries/retail/our-insights/the-state-of-grocery-retail-around-the-world
4 Spryker in partnership with market research firm Appinio, 'The Complete Guide to Online Food Retailing in the UK: 2022 and Beyond', n=2,500 consumers, https://spryker.com/press-release-uk-online-grocery-report-2022/
5 https://www.statista.com/statistics/1319885/online-grocery-sales-uk/
6+8 PayPal e-Commerce Index, ACA Research commissioned by PayPal Pte Ltd, 15 June - 18 September 2022, covering 12 markets (United Kingdon, Germany, France, Italy, Spain, Sweden, Belgium, The Netherlands, Republic of Ireland, Israel, Greece, Poland) with n=15,221 consumers and n=4604 businesses
9 https://tinyurl.com/5n8at2y8
10 Maru Group, Commissioned by PayPal, June 16-July 30, 2021. The study conducted by Maru via an online survey among 1,000 participants in the UK., who were household decision makers regarding food and/or grocery shopping.
11 https://www.co-operative.coop/media/news-releases/co-op-clicks-with-paypal-to-offer-additional-simple-safe-and-secure-digital
12 Lone, S., Harboul, N. & Weltevreden, J.W.J.(2021). 2021 European E-commerce Report. Amsterdam/Brussels: Amsterdam University of Applied Sciences & Ecommerce Europe