While virtual events can minimise costs and maximise time, BlasCymru/TasteWales, due to take place in October, is showing how powerful in-person buyer-supplier interaction can be achieved in an efficient and seamless manner, to the benefit of both.
If the past few years have taught UK food and drink suppliers and retailers anything, it is that face-to-face communication with other people within the industry is an important dynamic for conducting successful and long-lasting business transactions.
While virtual events may offer some advantages over in-person meetings, such as reduced costs and year-round leverage potential, the networking and personal interaction afforded by a physical event often enables a deeper buyer-supplier connection. Online meetings simply don't have the same verve and immediacy as a face-to-face encounter – and many are now relishing the prospect of upcoming events in the 2023 calendar, hoping that this year will re-energise the industry and restimulate static or lost sales during the height of the Covid-19 restrictions.
In an online article, US business magazine Forbes points to the renewed importance of face-to-face events, with Kara Krause, SVP of event marketing and communications at EJ Krause & Associates, noting that the past couple of years have been a rocky road for the meetings and events industry, particularly from a networking perspective.
She says: "It seemed like for the 1.5 billion people participating in face-to-face business events globally (and the 1.5 trillion in total GDP they represent), the days of the jam-packed calendar full of conferences and business trips was packed up and stored away for good, or at least destined to be stuck behind a screen for the foreseeable future.
"However, with annual trade events starting to make a comeback, the value of face-to-face interaction is again being realised. Now, more than ever, people are recognising the benefit of face-to-face networking and the opportunity it presents to collaborate and create partnerships."
As Krause points out, interpersonal connections can help brands reconnect with old contacts, forge new ones and gain an opportunity to view the competition and share experiences. They can also create a competitive advantage for brand suppliers, simply by being in the same room as the buyers they wish to meet and creating longer-term relationships as a result.
In addition, face-to-face gives exhibitors and visitors the chance to learn new information and market trends, also feeding into that important competitive edge.
Maximising efficiency
Despite the relative dynamism, however, being out of the office to attend events can prove to be a time-consuming process for both suppliers and buyers. So, with many now understanding the advantages afforded by virtual events, it is important to make any physical face-to-face interaction as seamless as possible in terms of both time and cost. And this is where the Welsh Government, which is the organiser of Welsh food and drink event, BlasCymru/TasteWales, feel they are making a difference.
The biennial event, due to take place again from 25-26 October this year at the International Convention Centre Wales, Celtic Manor Resort, Newport, is designed to be as time-efficient for buyers and suppliers as possible. The format is designed around short initial introductory buyer-supplier meetings, just 20 minutes long, to quickly define if there is a common interest – a match, so to speak.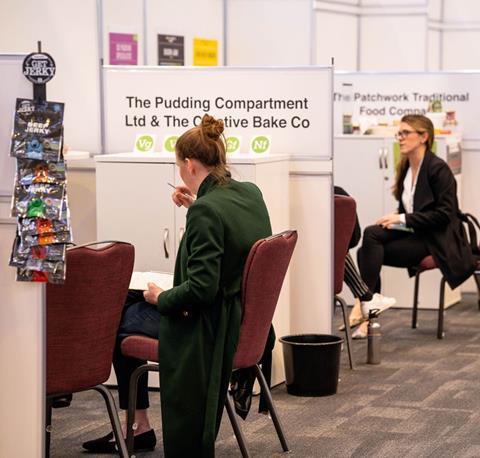 Buyers intending on visiting the event are able to scroll through a directory of producers beforehand and select those they are interested in finding out more about. Each producer is allowed a two-page profile in the directory, where they get the chance to outline their products and credentials, including any action taken on sustainability. The BlasCymru/TasteWales team also have detailed knowledge about the Welsh supply base so can provide information to help pinpoint appropriate companies. Buyers can then request meetings via an online platform and, should the meeting at the event prove to be of mutual interest, the discussions can be taken forward.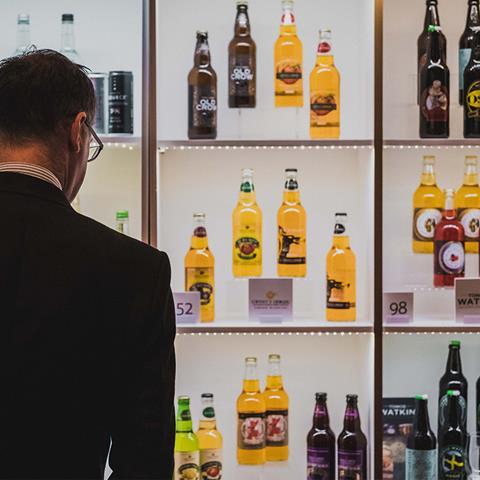 In addition, a large product showcase at the event itself enables buyers to browse in an undisturbed environment and, if interested in particular products, set up a meeting with the relevant suppliers at the event itself. There is an emphasis on innovation with over 200 new products featured at BlasCymru/TasteWales 2021, and a similar number expected in 2023. Organisers reveal that around two-thirds of pre-booked meetings are expected to go into the brokerage sessions, while another third would be set up during the event. At the most recent BlasCymru/TasteWales in 2021, around 1600 meetings were conducted across the course of the two days, generating a £16m in new business deals.
A dedicated Sustainability Zone will also be featured, which will be led by the industry driven Food & Drink Sustainability Cluster. The Cluster provides specialist support to 100 Welsh food and drink businesses members who want to develop their sustainability credentials and make wider positive social and environmental impacts. This includes specific workstream groups which seek to help businesses identify practical solutions for waste, recycling, packaging and energy efficiency. The Cluster also provides one-to-one support for those businesses seeking to attain certification with B-Corp. Through its industry links, the Cluster is able to partner businesses with 30 support organisations across Wales, including Fareshare, WRAP, AMRC Cymru and the FDF Cymru.
The Sustainability Zone will showcase the innovation and sustainability achievements of Welsh food and businesses, and provide the opportunity for industry stakeholders and buyers to meet Sustainability Cluster business members. The zone will also promote sustainability to the industry as a business imperative that is easily accessible and practical to achieve.
Networking opportunities round out the whole experience.
"Attending BlasCymru/TasteWales… provides the opportunity to meet many new and existing suppliers and discuss business opportunities in both a relaxed but focused environment. The short introductory meeting format is time-efficient and the Rising Star area is great to see with a range of up-and-coming Welsh brands. The product showcase display, including 200 new products, allowed me to consider lines and suppliers that were new to me. I am always impressed at the breadth and quality of what is produced in Wales and thoroughly recommend BlasCymru/TasteWales."
– Nathan Edwards, local buying manager Wales, Retail Local Sourcing, Tesco
Consultative approach
The 2021 event welcomed over 200 buyers, mostly from the UK, due to Covid. However, this year, organisers are planning to welcome both UK and international buyers, hoping for a much larger international contingent to visit the International Convention Centre at Celtic Manor… and the Welsh Government is providing assistance for them to do so, including accommodation.
"BlasCymru/TasteWales is a trade event, with a strong commercial focus, and business-to-business interaction through the brokerage and networking is at the heart of the event. But BlasCymru/TasteWales has much more to offer," explain the organisers. "It is organised by the Welsh Government's Food Division and hosted by the Minister for Rural Affairs and North Wales, and Trefnydd Lesley Griffiths MS. It's about focusing on buyer objectives and helping them to achieve those. So, it's more consultative in nature. It's about providing a buyer-supplier exchange of information and, if there is a match, then that can go forward."
BlasCymru/TasteWales also shines the spotlight on Rising Stars or up-and-coming producers in the Welsh food and drink industry, with a section dedicated to those within the general brokerage area, explain the organisers. "The buyers like to see the innovation coming through, but they also want to help new businesses succeed."
"BlasCymru/Taste Wales has established itself as our leading event for showcasing any innovation and presenting our brands to the market. No other show gives us access to the level of decision-makers and market information that BlasCymru/TasteWales does. The atmosphere is relaxed but concise, real business is done and the conversations we have had over the years have led the way to some great growth. From a company that has at some point exhibited at most of the trade events in the UK, this one is a must for our calendar, and we are looking forward to this year's show."
– Chris Butler, marketing manager, Radnor Hills
Commenting about the trade event the Minister for Rural Affairs and North Wales, and Trefnydd, Lesley Griffiths MS, says: "BlasCymru/TasteWales will be the fourth such event, giving Welsh businesses a platform to showcase the best products Wales has to offer to a global audience, as well as provide a shop window for interested investors and partners. Wales is proud to be home to a successful and dynamic food and drink industry. From artisan businesses through to large companies, Welsh products are some of the very best in the world."
At a glance
● The Welsh food and drink sector supply chain hit a turnover of £23bn in 2021
● Welsh food and drink exports reached £641m in 2021, rising £89m over 2020
● Eight of the top 10 Welsh food and drink export destinations were in the EU, worth a value of £465m in 2021
● Exports to non-EU locations increased to £176m in 2021, up from £138m in 20201
To find out more about Wales' food and drink exports, see the video below:
To register your interest to attend BlasCymru/TasteWales, email buyer@tastewales.com
Source
1 Welsh Food and Drink Export
The Welsh Government's Food Division is responsible for promoting the industry in Wales. Working with partners it recently published its future strategic vision aimed at creating a strong and vibrant Welsh food and drink sector with a global reputation for excellence, along with having one of the most environmentally and socially responsible supply chains in the world.
View full Profile