Food fraud erodes the integrity of brands and costs companies millions every year. Could an 'Origin Fingerprint' be the solution to proving traceability and transparency?
Fraudulent British beef is a serious problem for all supermarkets. A recent investigation by the National Food Crime Unit (NFCU), codenamed 'Operation Hawk', found that a supplier has been selling large volumes of pre-packaged South American and European meat to a UK retailer: one which claims to sell only British products.
The supermarket carrying the fraudulent beef was forced to remove the products from the store and has refrained from trading with the supplier, while the directors of the source company are being investigated by the NFCU.
While the supermarket's identity hadn't been disclosed at the time of writing, this news should be of concern to all food retailers in the UK. 2023 marks 10 years since the infamous 'UK horsemeat scandal' of 2013, a crisis that engulfed the food industry, regulators and general public in 16 different European countries. Now it appears the industry may be poised at the brink of yet another scandal.
So how can British retailers counteract counterfeit beef and prove that they're selling the genuine article?
Food fraud – an escalating global problem
Food fraud erodes the integrity of brands and costs companies millions of dollars every year. In fact, it's estimated that the global economic value of counterfeiting and piracy reaches into the trillions, every year.
Across a wide range of industries, from food to fibre, cotton to coffee and fashion to pharmaceuticals, product fraud is a serious problem that can irretrievably damage even the most reputable of brands. Recent reports indicate that up to two-thirds of adults believe that once a brand loses its trust, there's no gaining it back.
"Consumers are being defrauded and misled, and many brands are unwittingly playing a role in that deception - because they have no way to demonstrate proof of provenance," says Grant Cochrane, CEO of origin verification company, Oritain Global. "Traceability is only as good as your supply chain. And unfortunately, food fraud can, and does, take place at any point in that supply chain."
Why the UK meat market is ripe for fraud
Experts believe that current cost of living crisis in the UK has led to many consumers 'trading down' in their meat consumption, and with that comes more vulnerability to fraud. As always, less scrupulous suppliers are only too happy to take advantage of this situation, and cheaper meat brands are far less likely to offer transparency and traceability to consumers than premium brands.
Brexit and the UK's exit from the EU's Food Fraud Network is another factor, as the UK has now lost its first line of border control on food fraud. While once, food destined for the UK was subject to the same high level of inspection and scrutiny as elsewhere in Europe, this scrutiny is now virtually non-existent.
It takes 20 years to build a reputation and five minutes to ruin it. If you think about that, you'll do things differently.
With consumer trust already damaged by the horsemeat scandal, beef suppliers and retailers need a proven means of verifying origin and protecting their hard-earned reputations. As Warren Buffet famously said, "It takes 20 years to build a reputation and five minutes to ruin it. If you think about that, you'll do things differently."
US label changes: how effective are they?
In March 2023, the US Secretary of Agriculture announced a proposed rule change that the label "Product of the USA" can only be applied to livestock that's born, raised, and harvested in the United States. Prior to this ruling, the label could have been placed on meat born and slaughtered outside the country as long as it was packaged in the United States.
More than 40% of shoppers who took part in a national consumer survey said they now look for the USA label when buying meat. However, there are many vocal opponents to the proposed change in the meat industry, with concerns being voiced around the cost of regulation. Among the opponents is the North American Meat Institute, who argues that it will cost US businesses and consumers millions of dollars, as processors will have to segregate animals and meat from other countries.
In other words, regulation is one answer to the problem of fraud in the meat industry, but it's an expensive solution that's appears to be fraught with issues for producers and suppliers.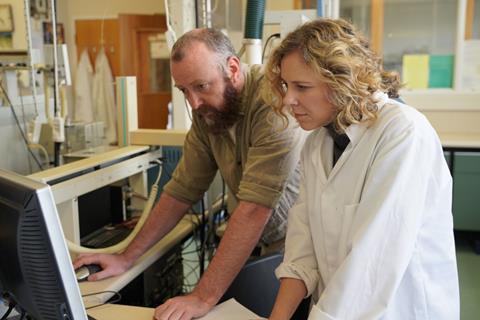 Getting to the truth of the matter
A far more affordable solution for food producers and retailers alike is 'origin verification' using forensic science and data. Originating in the criminal forensics fields, Oritain Global's industry-leading science was pioneered in New Zealand to protect the country's highly regarded agricultural industries from food fraud.
Unlike traditional traceability methods, Oritain's methodology tests the product or raw material itself to determine where a product comes from, and prove whether it's sourced authentically and responsibly.
All natural products, including animals, absorb different levels of trace elements and isotopes from their natural environment. Oritain's scientists analyse these natural elements to create a unique and inherent chemical fingerprint based on their geographical origin – called an 'Origin Fingerprint'.
"Once we've created a Origin Fingerprint for a client, it can be used to audit their products at any point in the supply chain - to clearly show whether it's true to source," explains Cochrane. "And, unlike other traceability methods, it can never be tampered with, replicated or destroyed. Furthermore, Oritain's methodology is robust, well proven and accurate enough to be used in a court of law."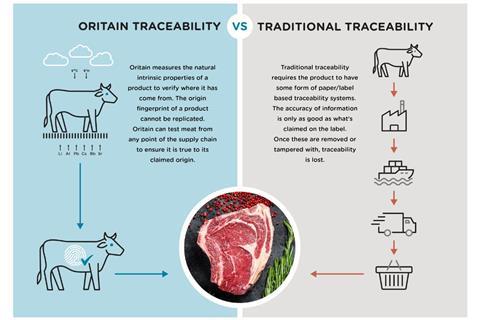 Welsh Beef traced and authenticated by Oritain
Since 2018, Hybu Cig Cymru – Meat Promotion Wales (HCC) has partnered with Oritain to help protect Welsh Beef and Welsh Lamb's credentials and reputation, providing an extra layer of reassurance to an already strong system of 'farm to fork' traceability.
Welsh Beef and Welsh Lamb are highly sought after by chefs and consumers alike for its Protected Geographical Indication (PGI), natural environment and low-intensity agriculture, so protecting the reputation of HCC's premium brands was paramount.
"Oritain's system, which is simpler than DNA testing and doesn't rely on barcodes or labels, gives the ultimate reassurance to our clients at home and abroad," says Gwyn Howells, HCC Chief Executive. "Using this award-winning technology, we can spot-check meat at any stage in the supply chain and identify with an extremely high degree of accuracy if the animal was born and reared in Wales."
Likewise, verified origin is key to maintaining the reputation of premium New Zealand meat brand, Silver Fern Farms. Oritain's verified traceability certifies the New Zealand origin of their grass-fed lamb, beef and venison, ensures supply chain integrity, and provides marketing and PR opportunities.
Independent endorsement essential in today's market
In a world where consumers are increasingly conscious of food safety and quality, an independent endorsement of authenticity is highly valued. To that end, Oritain has developed the Oritain Trust Mark, which their client partners can choose to feature on their packaging or label.
For Oritain's many client partners around the globe, including government organisations, industry bodies and leading brands, the Oritain Trust Mark protects their reputation, builds trust and minimises risk. For UK retailers, it's a trusted way to provide absolute assurance to your customers that they beef you're selling as British, really is British.
To find out more about Oritain's proven origin verification, visit oritain.c

Oritain – traceability like no other. From pioneering origins in New Zealand, Oritain has become a global leader in applying forensic and data science to verify the origin of products and raw materials. Today, Oritain partners with some of the world's largest and most valuable brands to support their ESG commitments, reduce the risk of fraud and unethical practices, and protect their reputations.
View full Profile