The only way to build a better customer experience is to ensure that their satisfaction is a company-wide mission. Nicolas Hammer, CEO of leading customer interaction management platform Goodays (formerly Critizr), reveals how.
Did you know that majority of customer comments about the brands they shop with are positive? People still get in touch to complain, but a lot of what's going on in your customer feedback channels is good news.
Every one of these comments, even the negative ones, are golden opportunities: yet many businesses mistakenly see these as problems to deal with. And for the grocery brands I work with, this customer feedback is their route to getting closer to customers and building better satisfaction and loyalty scores.
And there's no more important task than this.
In our digital age, when so much of our experience as customers has changed, businesses still place a high value on friendly, personal interactions. Chatbots and augmented reality make headlines. Automation is working hard behind the scenes to make businesses more efficient. But when it comes to customers, real human connections still matter.
People care deeply about how the businesses they spend money with treat them. And if it's a negative experience, even just once, they'll waste no time in taking their business elsewhere.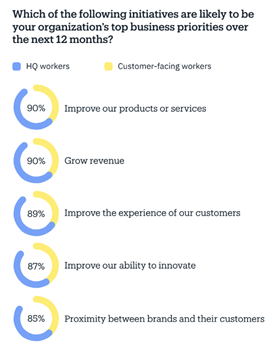 * A commissioned study conducted by Forrester Consulting on behalf of Goodays, May 2021
The challenge: personal interactions at scale
However, the reality of delivering these personal interactions at scale can be overwhelming. In our omnichannel, always-on world, customers can pop up anywhere, anytime, in person, online and on social media. The task of connecting the online and offline worlds and keeping pace with the instant-messaging generation, plus the sheer volume of customer enquiries, requests and issues they bring with them, is mind-blowing.
As a result, I've met many CEOs with CX scores that are stalling or, worse, starting to dip. How can they rebuild their customer service department to fix the problem? Well, they can't. That approach no longer works.
After over a decade of work in the sector, I'm certain that the only way to build a better customer experience is to make customer satisfaction a company-wide mission. From C-level to frontline teams, everyone needs to be aligned with the mission.
Building business around the customer
It's called customer obsession: a culture in which every member of staff is on board and takes responsibility for customer satisfaction. From the teams in physical branches and those looking after the digital experience through to the insights, finance and marketing executives and their bosses at HQ. It's a culture in which customer feedback is viewed as an opportunity to grow and build better, rather than a problem that needs to be solved.
Easy to define, but how is it delivered?
Here are the four pillars of building customer-obsession into your business:
Connect with your customers beyond physical stores
Customers shop omnichannel, but they only have one relationship with your brand and it's not confined to any one channel or their experience in-store.
It's when they call their local branch with an enquiry before they leave home, search your opening hours on google maps, tweet about an unhappy experience or leave an online review. It's crucial to connect the dots, so you have visibility of what customers are thinking, saying and needing from your business across the full customer journey.
And it needs to be a two-way process. Being able to respond and chat in the channels your customer uses is vital. Technology is your friend in this quest. No customer likes to be left hanging on an unanswered phone, but you can now swiftly convert calls into messaging so your teams can deal with them at the touch of a button.
Likewise, if your store managers are out on the shop floor all day, they can now collate customer messaging and spark conversations directly from a mobile app. There's so much innovation to build better for your customers, so don't fail your customers by falling behind.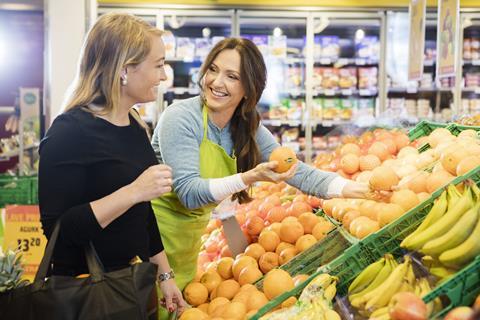 Make it personal
Personalisation is an industry buzzword, but in a customer-obsessed business, everything is personal. It's not about customising a promotional postcard with your customer's name. It's about putting people and relationships first and realising their value to business outcomes.
Every person in your business has a different role, with different goals and KPIS. But they all have the power to make decisions and take action to make customers happier. A customer-obsessed strategy empowers teams so they can do this, allowing them to manage each customer as an individual, to deliver warm, personal, dedicated service at every touchpoint, every time.
Democratise the data: and use it
A customer-obsessed business has to move quickly. There's no time for 'we'll be back in touch soon' customer emails or a lengthy staff memo from HQ about how to deal with a problem. This is the messaging age and customers want answers in the here and now. Don't let valuable customer data become clogged up in processes or silos. Use technology to listen and understand what customers are saying and relay their feedback or requests to the people in your business who can do something positive in response, quickly and effectively.
And equip every team with the data they need to improve performance. Whether that's insights for your digital teams for long-term planning, or a snapshot of local customer trends for store managers, so they can make changes, create sales opportunities and tweak operations to improve individual store performance.
Finally: don't start at the top
Whole business transformation is difficult. How often has a strategy formed in the board room failed to deliver once it has trickled down to the grassroots? Customer-obsession isn't a top-down strategy. Yes, the intent has to be set by business leaders. But this is about hard-wiring customers into the whole business mission so that it's a top priority for every team member.
It takes time, it takes investment, but as we all know, happier customers are more than worth the effort.
Case study: Carrefour
Since 2015, French Supermarket Giant Carrefour has been carefully listening to its customers. In fact, in 2019 Carrefour collected over 2 million* customer interactions in the form of feedback, suggestions, questions and compliments. This proximity with the customer results in customer obsession being anchored in the culture of the local teams leading to increased customer loyalty.
Carrefour has also recently deployed Google business Messages across 1,200 stores, enabling customers to get in contact directly from the Google search results in real-time.
Carrefour has also made efforts to adopt a more inclusive approach to all their customers. For example, they've announced weekly quiet hours in more than 1,240 stores to accommodate customers with autism, as well as all other customers who enjoy peace and quiet when they shop. During this quiet hour, the store's lighting is turned down, there is no music, radio or store announcements and no cleaning equipment is used.
"In a crisis which is accelerating the ongoing transformation in our industry, our Group reached a watershed. We have established an attractive growth model based on customer satisfaction and new consumer trends." Alexandre Bompard Chairman and Chief Executive Officer Speaking on the Carrefour 2020 annual financial report.
Find out more about how Goodays can help your business, here

Goodays (formerly Critizr) is Europe's leading Customer Interaction Management Platform. Founded in 2012, our vision is to make commerce better for everyone - for merchants and customers. We tackle one human interaction at a time, at scale, without losing that welcomed personal touch.
View full Profile