The dial has been moved in terms of addressing diversity and inclusion within the grocery industry, but now it's time to turn inspiration into accountability.
Diversity and inclusion is a fixture now in FMCG conversations at all levels, including the very top tables. But that's not to say that the long-running challenges in this area are now resolved.
A 2020 report from McKinsey looked at more than 1,000 large companies across 15 countries and found that although a third had made "real gains in top-team diversity" over the previous five years, most had made no progress – or had even seen a backslide. In the same year, IGD interviewed senior HR staff across major retailers, foodservice providers and medium to large-sized branded manufacturers and found that more than 80% highlighted inclusion and diversity as part of ongoing senior leadership conversations.
But how to make the move from conversation to concrete action? That's where GroceryAid's D&I in Grocery comes in, explains Keith Black, Director of Diversity, Equity and Inclusion at Sainsbury's, and Chair of the programme's steering group.
"We are all very proud of how the programme is successfully engaging partners in a supportive and transparent way in order to achieve our collective mission of accelerating a truly diverse and inclusive grocery industry," he says.
Since its inception in 2019, D&I in Grocery has grown to become the largest cross-company FMCG collaboration for diversity and inclusion, offering a ready-made D&I programme including monthly online Learning Lab webinars, shared learning materials (selected by partners), networking opportunities with other partner brands, a mentoring programme, and an annual Diversity & Inclusion in Grocery LIVE! event.
"During the first three months of 2023, more than 1500 colleagues had watched our Learning Labs and 200 industry leaders committed to our cross-industry mentoring programme mentoring 200 industry colleagues," Black continues.
"The programme's momentum makes it a leader in its field, not just in grocery, but across all business. Now we have reached a point where the natural step is to collectively create an industry framework for measuring the impact of the progress taking place, which will accelerate inclusivity in the industry.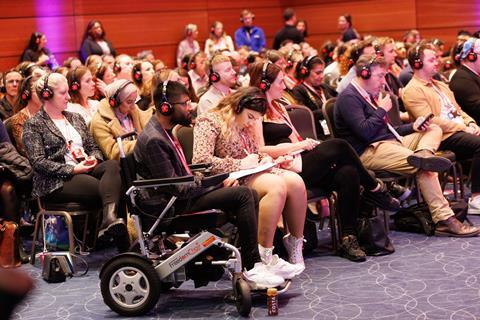 D&I in Grocery LIVE! will return for the fourth year on 6 October 2023, at The Intercontinental O2, London. Here, Partners bring the D&I in Grocery Programme to life by delivering a day of content covering more than 40 topics, across a mixture of panel debates, speed networking, Live Labs and personal testimonies. This year's event will be hosted by paralympic medallist and TV presenter Ade Adepitan, with a keynote speech from Naomi Sesay, Head of Creative Diversity at Channel 4.
One of the key themes being discussed at this year's event is the use of data, with questions up for consideration including whether KPIS are the only way to measure success, if targets are authentic or tokenistic, and how to measure progression if you can't gather data. One of the platforms for exploring these questions is the data debate, which will see colleagues from across the industry discussing D&I data and delving into the challenges of measuring D&I progression.
The wider event will host 1,600 changemakers from across the industry to collectively inspire, connect, learn and understand how to deliver measurable impact within D&I. Caroline Cater, Vice President Field Sales at Coca-Cola Euro-Pacific Partners and D&I in Grocery LIVE! steering group chair, says the event's size and breadth provides a unique opportunity to unite and leverage industry power to drive further change.
"D&I in Grocery LIVE! attracts the largest gathering of colleagues, leaders and changemakers from all areas of the grocery industry and different sizes and types of business, providing us with a very powerful platform to garner change," she explains.
"We have successfully created a unique moment in the industry calendar where organisations feel safe enough to have honest conversations around challenging subjects without fearing failure. It also means organisations at any stage of their D&I journey can learn and progress.
"One of the unique elements of the programme is the way that partners collaborate and share learnings. Following the incredible level of programme engagement, we now want to know how the programme can support our partners in creating a benchmark that enables them to quantify and qualify their progress. This is not about comparing organisation with organisation, it will be an inclusive framework where organisations can benchmark their own progress, regardless of where they are on the journey. We will use part of this year's event to hear from the advocates and experts within our industry about how we can accelerate I&D in the grocery industry together."
DIG LIVE! 2022 (subtitled) from Diversity & Inclusion in Grocery on Vimeo.
Each year the D&I in Grocery LIVE! delivers its comprehensive agenda through a series of engaging formats, which returns this year to deliver the same impact. To find out more about the event, click here https://diversityingrocery.co.uk/di-in-grocery-live-2023/

Working in partnership with hundreds of supporters across the trade, GroceryAid supports colleagues within the grocery industry from the first day of their employment. To access these services, colleagues can call GroceryAid's FREE and confidential Helpline which is available 24 hours a day, 365 days a year. Visit www.groceryaid.org.uk for more information.
View full Profile