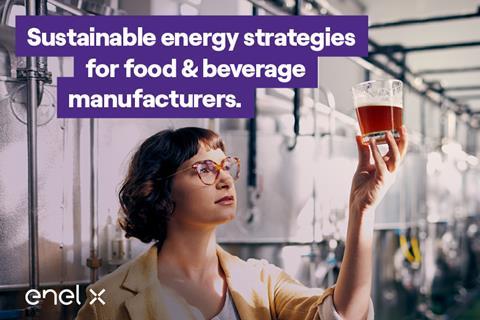 It's estimated that by 2030, the food and beverage industry will consume 45% more energy than in 2021 due to population growth and the impact of climate change. Coupled with energy market volatility and supply challenges linked to the ongoing war in Ukraine, the sector needs cheaper, greener and more secure sources of energy to protect business continuity.
In this new white paper from energy experts Enel X, learn about new ways to use energy with innovative and technological solutions to enhance energy performance and achieve net zero targets sooner.
Complete the form below to download the free report now.
The Grocer may use your contact data to keep you informed of its products and services by email. You can withdraw your marketing consent at any time by clicking the unsubscribe link in such email or by sending an email to dataprivacy@wrbm.com. More information on our processing can be found in our Privacy Notice. By submitting this form, you acknowledge that you have read and understand our Privacy Notice.

Enel X is the global business line of Enel Group, combining its own progressive future-orientated approach with the financial solidarity and worldwide reach of the Group. They are leading the energy transformation all over the world, turning complex technologies into simple, approachable, effective solutions that enable everyone to transform energy into new opportunities for sustainable growth and progress.
View full Profile