Despite inflationary pressures across the UK, premium and super-premium spirits brands are flourishing, opening the door for BrewDog Distilling Company to deliver on key trends and venture into the category with a brand new portfolio and trio of new brands.
There's a slight irony in the fact that consumers are opting to drink better-quality spirits products, rather than more, as the cost-of-living crisis continues. They're making conscious decisions to pick something that will give them a more memorable and elevated experience.
So why might this be?
Firstly, it could be down to accessible self-treating. As identified in a recent CGA report, "a treat mindset and a preference for buying fewer but better drinks mean there are good opportunities for suppliers and operators to establish and grow premium brands in 2023 – but only if they find the sweet spot of quality and value".
Also, although on-trade venues have opened up since the recent Covid pandemic, the inflationary environment means consumers are continuing to socialise at home. So the rise in cocktail culture strengthened during the lockdown years, as drinkers hone their inner mixologist, has continued. Retailers will therefore be looking to cater to that demand, offering stand-out and creative spirits options that will attract those shoppers looking to entertain and impress family and friends indoors.
However, that careful consideration of purchases means it's important for spirits brands to offer accessible options on the cost front, while still tapping into key market and flavour trends.As noted in a recent IWSR report, "growing economic concerns are set to make the at-home occasion even more significant in the future, as shrinking disposable incomes force many people to cut back on visits to the on-trade".
Disrupting the spirits category
Moreover, spirits brands – both regular and premium – need to keep a weather eye on the stand-out fruit flavour trends and blends that will inspire shoppers to find out more – and thereby generate increased sales for retailers.
A report on the beverage trends of 2023 by SIAL Paris noted that "consumers are looking for sweeter spirit-flavoured cocktails and flavours for ready-to-drink beverages. There is also a growing interest in orange, grapefruit, lime and berry blends."
But in an increasingly competitive spirits arena, it's also important for suppliers to make their brands stand out on-shelf, using strong brand colours and details to create visual allure and disrupt the category through colour, imagery or specific print techniques to make an impact.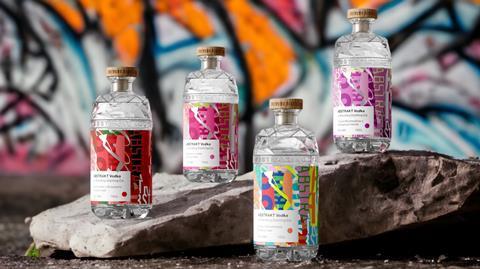 Spirits from scratch
Tapping directly into these trends, BrewDog Distilling Company plans to shake up the premium spirits sector with a trio of brands in three key spirits categories – vodka, gin and rum.
The craft spirits specialist – a subsidiary of parent company BrewDog, which built its reputation as a disruptor in the craft beer market – is forging its own path in the spirits world and plans to break a few rules along the way.
Directly accessing the premiumisation trend, the company is investing £7m over the next 18 months to build a strong spirits brand of the future. Using a state-of-the-art still house, which has just increased capacity by 300%, each of its new and innovative spirits brands aims to offer consumers world-class liquids, wrapped up in bespoke collectible bottles, with each brand crafted to stand out through attitude, creativity and bold flavours.
At the same time – and recognising the realities of the current market – the company is committed to keeping the cost accessible, but says the experience of quality and packaging is tailored to go above and beyond.
Standing out from the status quo
This May, BrewDog Distilling Company will release its new range and rebrand – Abstrakt Vodka, LoneWolf gin and Duo Rum - into the world.
A striking geometric glass design bottle houses its Abstrakt Vodka brand, which the company hopes will become collectible and kept in pride of place by consumers in their homes.
"The only way to truly cut through the crowd on shelf is by standing out from the status quo," says the company. "Abstrakt plugs the gap between the everyday and ultra-premium, but at £21 on shelf, offers amazing value for money."
Alongside their flagship original vodka, which is a 40% showcase of purity and smoothness, the brand also features some on-trend options designed to drive excitement, such as Madagascan Vanilla & Toasted Marshmallow, Watermelon & Strawberry and Raspberry & Lime. These unique flavour combinations are perfect for the home bartender to exercise their mixology prowess, or add to their favourite mixer.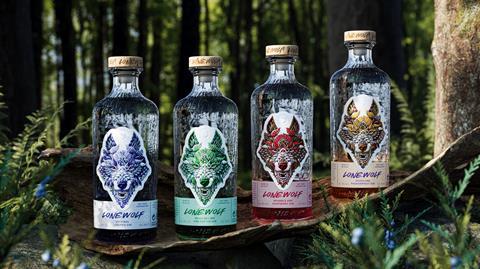 For gin enthusiasts, the company is creating LoneWolf gin from scratch, using its Abstrakt Vodka as the base spirit, which it says is something not many distilleries can lay claim to.
LoneWolf Original Juniper Gin leads the pack, with Peach & Passionfruit and Bramble & Raspberry joining the portfolio. One particularly exciting innovation within the category is their Mexican Lime & Cactus variant, which it says proves there are still undiscovered flavour combinations out there – and unlike anything else available in the market.
Finally, the maverick spirits company is offering a blend of Scotland and the Caribbean in its Duo Rum, which is already bagging accolades in the market. Duo Spiced Rum is the flagship product. A sweet and smooth rum with notes pineapple, allspice and a hint of lime for a true taste of the tropics.
Also in the range is Duo White, a liquid that has already bagged a Gold award at the Spirit Business The Rum & Cachaça Masters 2023, hailed as "well balanced with a gentle sweetness". The third and final product is Duo Spiced with Caramelised Pineapple.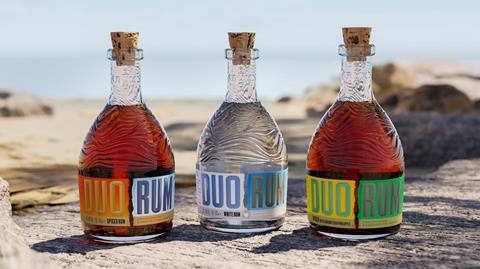 With these new, exciting premium spirits that tap into the current zeitgeist, BrewDog is again testing the market mettle and putting out disruptive products designed to make retailers and consumers sit up and take notice.
To get a full flavour of what the future holds at BrewDog Distilling, click here.
The new BrewDog Distilling Company range is out now. Select SKUs are available across major grocery outlets, including Morrisons from 8th May, Asda from 14th May and Sainsbury's from September 2023. All products will also be available at BrewDog.com and through BrewDog bars from June 2023.
Martin Dickie and James Watt founded BrewDog in Fraserburgh in 2007. Tired of industrially brewed beer, they started out on their own to bring some variety to the brewing landscape and have been successfully making their craft beers ever since. To finance it, they set up the crowdfunding project 'Equity for Punks' in 2009, whereby private investors could buy shares in the company. The demand was so great that in 2020 the project entered its sixth round with Equity for Punks Tomorrow and has over 200,000 Equity Punk shareholders around the world. With BrewDog's rapid growth, the old space eventually became too small, and the company moved to a new state-of-the-art brewery in Ellon, BrewDog's headquarters, in 2012. In addition to other breweries in Columbus, Brisbane and Berlin, the BrewDog universe now also includes over 100 bars worldwide and hotels in Scotland, England and Ohio.
View full Profile