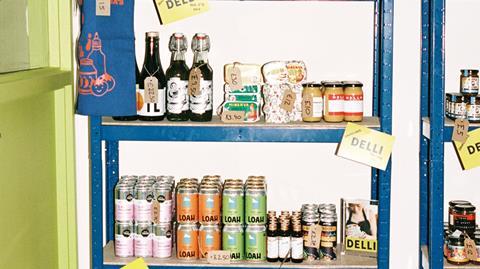 An artisan grocery app from the founder of secondhand clothing marketplace Depop has launched its first permanent physical retail site in London.
Delli was launched early last year, allowing users to browse a selection of food products from independent creators be they chefs, small businesses or home cooks, for delivery nationwide.
The Delli store in London Fields, Hackney opened its doors for the first time last week, selling an assortment of products that are available on the app.
"We have done some pop-ups, supper club events, and markets in the past year which have been great for our community and brand," Natalie Lee Joe, head of brand, marketing & community at Delli told The Grocer.
"We have seen the benefits of a physical space bringing all of us together, trying each other's food and sharing stories. Whilst we also connect people within our app, we feel having the physical space provides another opportunity to come together and actually try the food."
A key feature of the app – which also saw the popularity of Depop soar – is the ability of users to follow 'makers', chat directly to them, as well as comment on, like and share their 'drops'.
Interaction with makers will be a big part of the new store, Lee Joe said. "People love meeting our makers and hearing how and why they make what they do. Their passion is infectious in person, and we want to encourage and facilitate this as much as possible," she explained.
A programme of "regular events and food pop-ups" is planned for the store's courtyard, which will welcome makers on the app to run sampling campaigns from the space on weekends.
Last week Delli announced the launch of a chef-made own-label range, made up of a nutty dipping sauce, garlic dressing, spicy miso sauce and lemongrass tomato pickle, which will be available to purchase as a collection or individually later this month.
Chefs from the kitchens of seafood restaurant Orasay, smoke-cooked specialist restaurant Smoke at Hampton Manor, Soho Japanese eatery Humble Chicken, and Brixton bistro Naughty Piglets are behind the new Delli label products, and named on item labels.
Asked whether more stores were planned, Lee Joe said: "We'd love to but we're not getting carried away."
"We want to see how this one goes first. We want to try a few different things in the space, see what people are interested in, how we can add value to our community and then assess our future strategy of retail."